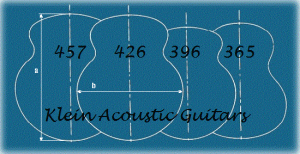 What do the Numbers Mean?
In this edition of "On The Bench," I would like you to visualize the nomenclature and comparison of the guitar sizes. Klein acoustic models are determined by the lower-bout width in centimeters (i.e. L-45.7 or in inches 18″- now is simply called 457). So, when ordering a guitar it is important to know which size will fit you best, in your hands, sitting or standing.
There you have it. I hope this helps you find your dream guitar!!!
For a consultation on how to order one of their beautiful guitars, contact:
Steve Klein or Steve Kauffman
Email: s.kauffman@att.net
Telephone: (541) 942-5120